Kukje Tourist Hotel Kwangju
1287-2, Juwol-dong, Nam-ku, Kwangju
Home » Kwangju Hotels » Kukje Tourist Hotel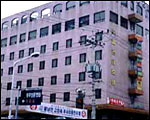 Click Here for Reservation in Kwangju Kukje Tourist Hotel
» LOCATION
Kukje Tourist hotel is located in the downtown of Kwangju and at some minutes of distance away from the airport, railroad Station and the Bus Terminal.
» DESCRIPTION
StayResKorea.com provides complete information on Kukje Tourist hotel and also on Korea hotels, ranging from comfortable cheap hotels in Korea to luxurious five star hotels in Korea. Here you can get complete information on services and facilities offered by the kukje tourist hotel Kwangju, the best deal on discount Korea hotels, online hotel reservations service, and an easy to use hotel booking facility. Please check online availability and special discount on kukje tourist hotel Korea.
Kukje tourist hotel Kwangju has a comfortable location in the downtown of the city and at some distance from the city's prime tourist interests. It provides with adequate facilities for the tourists on business and leisure. The hospitable staff at the hotel looks after the guests for their need. The 57 rooms are provided to the guests with all the comfortable facilities and amenities. The in house western and Korean restaurant serves its guest with fine quality food prepared by international chefs and prepared using local ingredients. For party lovers the night club in the restaurant is a great place to unwind with all the latest music. The Coffee shop and Pub snack shop serves light meals and drinks in a relaxed atmosphere.
» HOTEL FACILITIES
Western Restaurant
Japanese Restaurant
Pub Snack
Coffee Shop
Night Club
Cosmos Hall(150 guests)
Rose Garden(40 -50 guests)
Sky Lounge
» ROOM AMENITIES
Air-conditioning
Cable TV
Mini-bar
Digital Alarm
Auto door lock
Business table
Click Here for Reservation in Kwangju Kukje Tourist Hotel