Shinyang Park Hotel Kwangju
501-150 20-8 Beonji, Jisandong, Donggu
Home » Kwangju Hotels » Shinyang Park Hotel Kwangju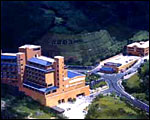 Click Here for Reservation in Kwangju Shinyang Park Hotel
» LOCATION
Hotel shinyang Park enjoys a comfortable location among the natural places in the center of the city. It's at some distance from the airport, bus terminal and other tourist interests.
» DESCRIPTION
StayResKorea.com provides complete information on shinyang park hotel and also on Korea hotels, ranging from comfortable cheap hotels in Korea to luxurious five star hotels in Korea. Here you can get complete information on services and facilities offered by the Shinyang park hotel Kwangju, the best deal on discount Korea hotels, online hotel reservations service, and an easy to use hotel booking facility. Please check online availability and special discount on Hotel shinyang Park.

Shinyang park hotel Kwangju is a deluxe four star hotel located in the center of the city. I provides with comfortable interiors, professional service and excellent cuisine and meting your every expectations. The 87 rooms are provided to the guests with all the comfort in a relaxed atmosphere. During your taste the guests can savor various cuisines at the various restaurants. The Tiffany's restaurant features a conservatory and serves a wide range of quality, international dishes. The Chinese Restaurants Yewon delights its guests with regional cuisine. The Korean Restaurant Hangaiwee serves a wide range of Korean traditional style menu and for some coffee the Café Rendezvous is a perfect place.
» HOTEL FACILITIES
Western Restaurant
Chinese Restaurant
Coffee Shop-Rendezvous
Banquet Hall
Membership Bar
Sauna
Golf Playground
Fitness Club
» ROOM AMENITIES
Mini-bar
Digital Alarm
Auto door lock
Business table
Internet
Air-conditioning
Cable TV
Hair dryer
Click Here for Reservation in Kwangju Shinyang Park Hotel